HopsnDrops, "A Neighborhood Gathering Place," was created as a safe, fun place for neighbors to meet neighbors and friends to gather with friends. On any given night the neighborhood block party is happening at HopsnDrops!
Our design and menu were built to reflect an atmosphere for folks to gather and enjoy an iced cold beer, a 100% Angus beef burger and to sip on our ever-popular, hand shaken, real fruit, icy drops.
Meet the Eggen / Tribbett Family!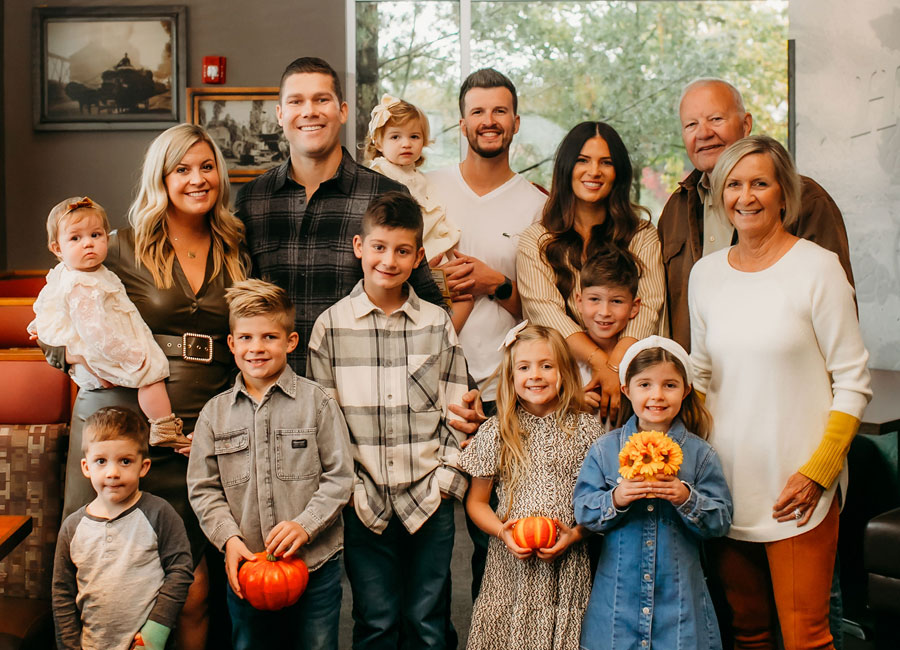 In 2009 Mark Eggen opened his first HopsnDrops in Bonney Lake, Washington.
Mark's mission was to "create a fresh, delicious and fun experience for guests while excelling in hospitality and supporting the needs of the community." Mark, a family man with many years in the restaurant business, wanted to create a work place and culture that allows people to be the same at work and home.
Over the years with great leadership, world class training, growing pains, hard learned lessons and a pandemic, the concept now spans three states and employs over 1000 team members!
This family-run company is now led by Mark's son, Kevin Eggen as CEO and son-in-law, Tommy Tribbett as CFO.
The entire Eggen family appreciates your ongoing support of HopsnDrops!
NEW TAP TUESDAY
Join us the FIRST TUESDAY of each month to celebrate our favorite, local, backyard beers!
Enjoy $4 pints of our featured tap ALL DAY plus raffles & prizes 5-8pm!
CURBSIDE TAKEOUT
HopsnDrops is open daily for takeout! Our full menu is available including beer, wine & cocktails. Order a Growler TO GO! No contact, curbside pickup is available. Order & pay online, or call your favorite HopsnDrops location to place your order!
DELIVERY AVAILABLE
Have HopsnDrops delivered to your home or office. Our full menu is available for daily for delivery. Enjoy breakfast Saturday & Sunday 8am-11am*
100% Angus Beef Burgers
We proudly serve hand-formed, 100% Angus beef burgers on fresh kaiser buns that are toasted to perfection. With thirteen delicious burger choices, we're confident there's a burger for everyone to love. Our #1 selling Deluxe Burger is the classic burger with all the traditional fixings. If you like 'em hot, go for a spicy Jalapeño Cream Cheese Burger. It's amazingly delicious and dripping with flavor!
Our burgers are so delightfully messy that we wrap them in paper so you can savor every last bite (and your dignity!)  Since 2009 we've sold 1.6 million so we must be doing something right! Stop by today for a burger and a cold pint, you won't be disappointed.
Backyard Beers
Our backyard beers are poured from iced taps at 34°. Yes, literally the taps extend from the bar top, encased in ice. If you haven't seen this before, touch them! This phenomena is created by what is called a double glycol system, causing the taps to freeze. Only a handful of restaurants in the world have these.
Our staff enjoys talking "beer" with guests so ask them what's on tap. We feature 16 local, unique craft beers along with our own brews.
Believe us, nothing is more refreshing than an iced cold beer at HopsnDrops!
Happy Hour
If you like happy hour, you'll LOVE ours at HopsnDrops!  Not only do we do "happy" twice a day but we also offer happy hour in our bar AND DINING ROOM!
Enjoy a variety of craft cocktails, backyard beers and your favorite menu items all at great happy hour prices daily 2-6 & 9 to close.
Get happy happy happy with us at HopsnDrops!
Food that is different
Enjoy simple, classic, American food with a twist at HopsnDrops! Our burgers are simply the best, fresh, hand-formed, 100% Angus beef. We offer a varied menu including crispy salads, savory sandwiches, festive macs, south of the border favorites, homemade soups & more.
Every menu item we create is made in house with care, as if you're a guest in our home.  Come hungry, we're confident there's something special on our menu for everyone!